The Drowning Man: Keeping Up with the Flood of Culture
The next salvo of an ongoing diary of the things that have been making Swoon feel all tingly in key chakra points. This time–new records by Pharaohs and DJ Koze, Leos Carax's insane film Holy Motors, and Spectrum live review.
By Shaun Frente
Pharaohs –Replicant Moods (100% Silk)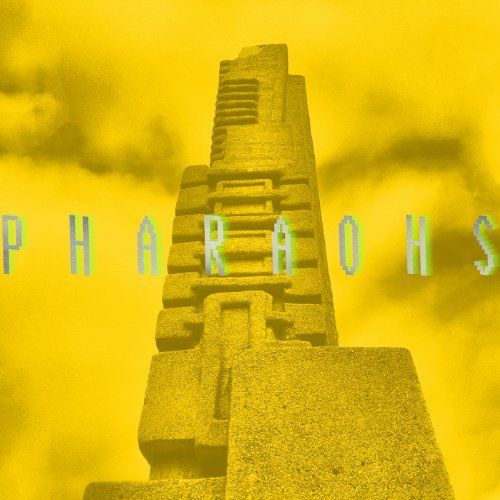 It's late August, early September and the wind is animating the maples, the ginkos, the pines, the vines, in this way that makes Ann Arbor look like you're stoned even if you really aren't. As I'm getting record-finger going through the umpteenth crate of vinyl at the town's snootiest indy rock boutique, a warm and gooey pulse wafts from the speakers, "not so much through any brute pungency or volume as by the high intricacy to the weaving of its molecules."  It's the logical extension of the do-nothing summer air, were it being generated by androids armed with tacit agape and a saxophone or two.  Wherever this music was coming from, I had to get to.
This moment didn't exactly happen as such, as accurate as it is in spirit—it's a composite flashback that's spilled out of my every listen to "F&M Suite," a standout cut from Pharaohs' long-playing debut–Replicant Moods.  In other words, it's an expressway to pleasure centers that had just been awoken in me for the first time; the very specifically-shaped sounds of early down-tempo acid-house.  Human noises from very inhuman places filling you with a lush, teen-dream hedonism that has nothing to do with self-destruction.
I don't mean to say that Pharaohs have made a Spirit of '92 acid-lounge retro manifesto.  Replicant Moods does have its share of Mr. Fingers-style home-appliance squiggle noises and the general chugging electronome with which New Order would inspire the first wave of proto-ravers (…who would return the favor by inspiring the last New Order recordings worth mentioning).  The title cut, say, could at points be lifted from one of 808 State's pre-1990 opening gambits (Newbuild or Quadrastate), but then those records were exceptions to the rule of generically looped acid trax: they offered raver music that snuck into the pop galaxy, albeit within its deepest orbits.
If all that's just gibberish to you, let's go back to the start:  Pharaohs' Replicant Moods distills all that's good about early techno. It's haunting without being brooding; precisely austere and playful at the same time.  Much of this comes from the group's fairly uncommon set-up:  they are an "organic," mid-sized combo who happen to incorporate a lot of electronics alongside saxes and the occasional vocals.  Live, these guys dispense with pop song structure altogether, favoring instead seamless jazz-tech jeremiads that fall somewhere between hippie jam sessions and epic DJ sets.  That expansiveness has been eschewed on Replicant Moods—though you can imagine the album closer "Above/Below" carrying on into infinity—but the essence of what makes Pharaohs one of the finest fixtures of Los Angeles's synth scene comes through on these eight wonderful tracks.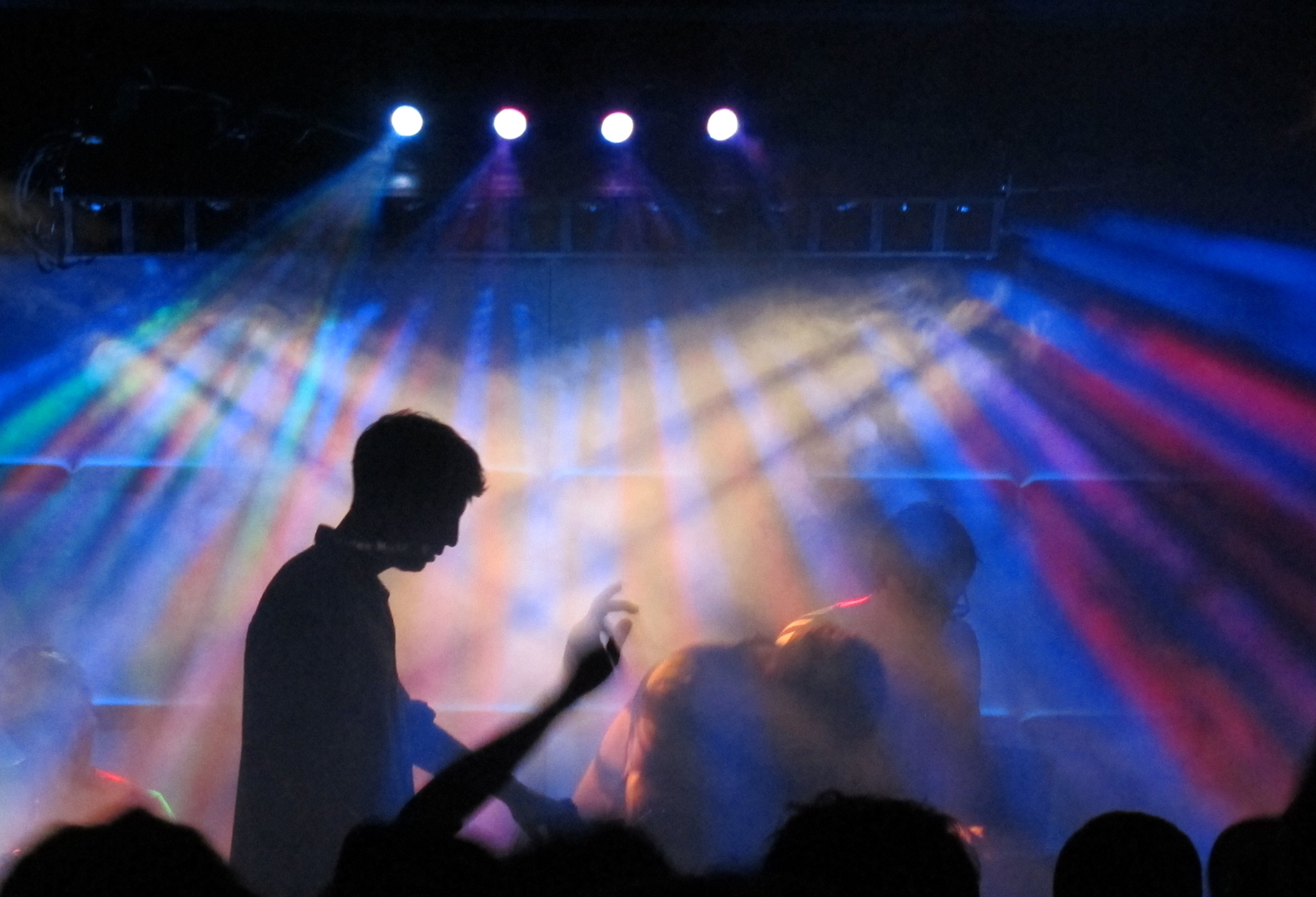 Pharaohs live at the Echo 2012, photo Kelly McKay
DJ Koze – Amygdala (Pampa)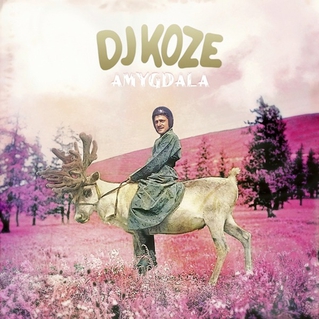 If, for rhetoric's sake, we can pigeonhole Pharaohs as a live jazz band who play techno-house, then DJ Koze is a dyed-in-the-wool studio wizard who decided to deliver a decisively pop album (the sticker even hails it as Koze's Sgt.Pepper, whatever that means anymore).  Not to say that the 12 songs here follow a verse/chord/verse blueprint, or that anything here will end up on commercial radio.  Which is ultimately a delicious irony:  the "techno invasion" that's been allegedly looming since the late 80s or so finally; resoundingly descended in 2012—rock does not really exist on the radio anymore—but Taylor Swift, Rhianna, and the wretched Psy are storming back to the future by rehashing Chicago-crack house and Miami bass that was terrible fifteen years ago—much of the same textures and production techniques that chased techno out of polite society in the first place. What I mean is that Amygdala comprises twelve songs that don't need to be part of a mix to make sense, that roll out a gobstopper's worth of musical flavors…and at their best, will not leave your head.  A rarity for an album with the letters "DJ" on the cover, this thing has more guest vocalists than a Fat Joe CD, so you might even be able to sing along.
It's almost a surprise that Koze doesn't warble on any of these cuts himself, given the parade of non-singers here, notably the nasal meanderings of Caribou/Dan Snaith and the adenoidal distortions of Matthew Dear. (I'm not trying to be mean, but if you know these guys, you'll get what I'm talking about).  It's no surprise, on the other hand, that these cats are making music together, given their between-the-lines solidarity.  As Swoon has been carping about for the last few years, Caribou and Dear are club cognoscenti defined, but instead of making DJ-only lego blocks for someone else's megamix—a true artisinal feat in itself—these fellows are redefining what pop music can be. (And for someone who's turning 40 this year, hallelujah that it all doesn't sound like Monsanto music for tweens on Adderall.)
As with Dear's post-microhouse records, Koze's new release falls short here and there, but I still believe that's a venial, even admirable, sin when you're shooting so high in the first place. Koze's magnum opus manages to fuse everything from a German Rodgers and Hart cover to Spanish guitar-flecked rave anthems to songs you'd tuck your really cool toddlers in bed with…but in a way that seems only natural. (When you pay attention to the often counter-intuitive way Koze can manipulate sounds—and sweet jesus he's an ace at this—the nonchalant feel of the proceedings is even more commendable.) Maybe it's a 21st century German thing:  like many of his peeps on the Kompakt label,  Koze embraces in equal measure the sappiest, most saccharine lullaby pop and the demands of classical music, tossing out fairy tale landscapes where the trains run on time… But it's really when these lazy blah-meets-blah connect the dots descriptions fail—as on the magisterial yet awkward "Magical Boy"—that Koze truly comes around.  Cutting through decades of lazy pop idiom to remind me what pop is all about, "Magical Boy" (and the record's other peaks) floods the center of the brain from whence this collection takes its name, awakening you with—to quote James Mason in A Star is Born, those "little jabs of pleasure" that make everything worthwhile.
Leos Carax's Holy Motors DVD and streaming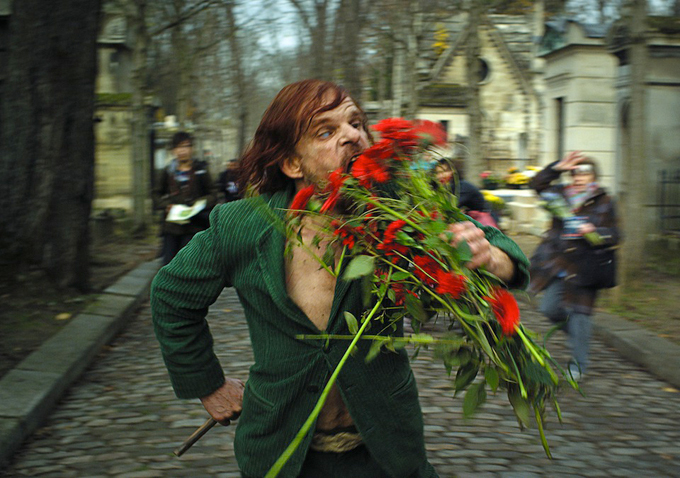 Aside from "literal," "surreal" might be the most misused word in circulation, mainly because there are so few true Surrealists working in any medium. Leos Carax, who thirty years ago was the heir-apparent to the scorched-earth romanticism of Godard, is no career surrealist, but his 2012 art-house smash Holy Motors is as enthralling and oneiric as the films from Luis Bunuel's unmatched victory lap of the 60s and 70s.  (Bunuel's Phantom of Liberty might be the most apt comparison:  Holy Motors glimmers with sharp, swift social commentary, but in the end is held together with fully Freudian fibers.) Stream it on Netflix!
Spectrum – live @ The Echo, 4/23/13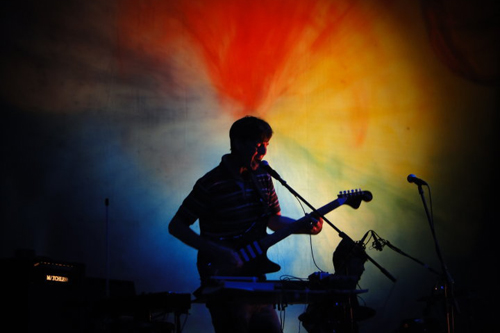 As can be said of kindred spirits Stereolab, the now-legendary Spacemen 3 were maybe the most fertile rip-off artists of rock proper's apogee.  From their shambling teenage demo tapes from the early 80s on, if the Spacemen didn't beg it from Lou Reed or borrow it from the Stooges or the MC5, they boldly stole it from Suicide or the freaking Red Krayola.  But like Stereolab—whose Tim Gane once bragged that he could tell you from where every bar of the mighty Lab's oeuvre had been lifted—the Spacemen not only transcended being a junkie's jukebox tribute band but over time have become the object of salivating tribute themselves.
When the Spacemen called it quits over twenty years ago, it was owing to one of the most Lennon/McCartney splits since Lennon and McCartney.  Spiritualized, Jason Spaceman's post-3 institution, has been the Wings of the equation: they make operatic gospel tracks with the London Symphony Orchestra and Dr. John.  They play at Coachella.  Peter "Sonic Boom" Kember has been an even-neater Lennon.  With both his ongoing affair Spectrum, and even more so with Experimental Audio Research, Sonic sometimes alienates even the old gang with platter-long tremolos and Speak-and-Spell-level electronics.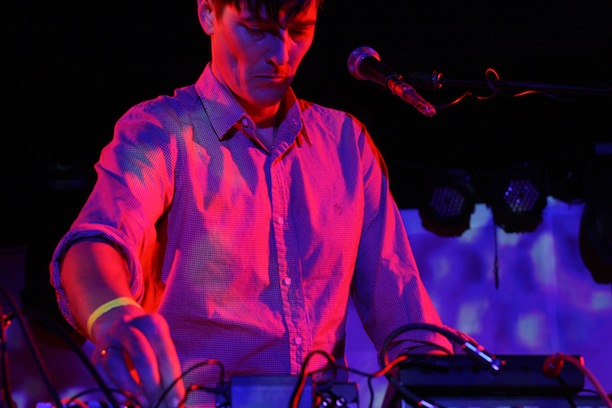 In the last few years, however, Sonic decided to take Spectrum on the road…and along a well-charted route at that.  Indeed, the last few times Sonic has hit town, it's been a psychedelic greatest-hits affair after all:  the more hard-ass Spacemen classics ("Things'll Never Be the Same," "Take Me To the Other Side"), Spectrum nuggets ("How You Satisfy Me"), and covers that could be on Nuggets.  He always closes with their two-note earsplitting valentine to Martin Rev and Alan Vega, "Suicide." And so forth.  Yet it doesn't feel like an old rocker whose creativity dried up when the smack ceased to flow: he sincerely loves these songs, which look damn fun to play and are still a joy to hear.  Who knows how much longer they can keep this balancing act up for, so the next time they fly by, ignore this international treasure at your own risk. For all the fucked-up children of the world, Uncle Peter is still there for you.
The Drowning Man Part I:
Detroit Electronic Music Festival 2012; two new albums that jump out of the box, set it on fire, and dance on the ashes; and a Krautrock tribute concert with a line-up so all-star it would make a 1970s disaster movie jealous. By Shaun Frente
Detroit Electronic Music Festival 2012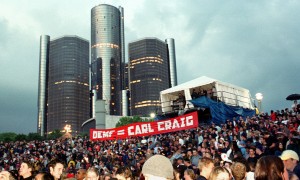 After a while, talking about your love for DJ sets grows to be like talking about your sex life:  not only is it personal, it's really fun to do but gets boring to hear about from someone else.  To extend the metaphor, then, the DEMF is like a dream sex life:  you know it's going to feel good, yet it never crumbles under the weight of build-up; it's totally reliable, but never happens exactly like you expect it.
This year was that and then some – wicked sets from the old guard both experimenting and just doing what they do best alongside some of the best emerging talent in the electronic universe.  Extra kudos for festival presenters Paxahau  for eschewing any arena-rave cheeseballs this year and for booking heavily in the neglected Detroit house department (Andres, Mike Huckaby, Rick "The Godson" Wilhite, Marcellus Pittman).
My disco sister and I vote for Stacey Pullen's closing set as the highlight—it either added three years to my life or knocked three off—but also amazing:  Matthew Jonson, Maceo Plex, Jimmy Edgar, Maya Jane Coles, Wolf + Lamb, Actress… The fifteen minutes of Jeff Mills we caught were stellar… and it's good to spend three days living in a world where Jeff Mills playing on the river to thousands of the faithful is Plan B…  And there's a White Castle where they shoot your sliders and clam strips out in a pneumatic tube. Best. Year. Ever.
Krautrock Classics (Dublab and Goethe-Institut Los Angeles)
Featuring  Daedelus, Pharaoahs, White Magic and Ariel Pink, Sun Araw Band VIII, ESP, Dntel, Carlos Nino and Friends, Nite Jewel and Friends (Cole MGN, Nedelle Torrisi, Secret Circuit, Peanut Butter Wolf)
It's not often you have the sense of being at a "once in a lifetime event," at least not while it's happening, but this hootenanny at the gorgeous Ford Theater was tangibly epic.   Rounding up what felt like about half of the most interesting musicians working in Los Angeles under one (non) roof, Dublab's three-hour space jam was practically a manifesto of neo-psychedelia, honeyed down with the warmth of a family picnic (if you like your family).  For those not familiar with "Krautrock," the term covers an ultimately diverse yet strangely coherent body of work produced by nutty Germans in the 60s and 70s, ranging from straight up acid freak-out flanged guitar fuckery to minimal electronic pulses sprawling across entire record sides. Bridging the ethos of hippies and proto-techno studio geeks, this stuff was apparently another "reason punk happened," but in Swoon's books a million times more interesting than almost any punk output.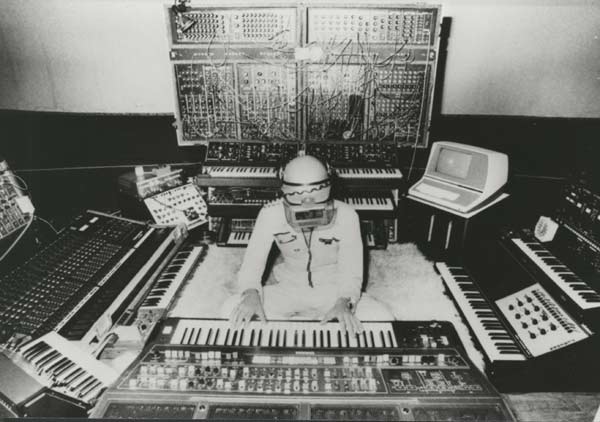 Interestingly, while the program represented a healthy slice of der Kosmischemusik—of the quintessential Krautrock artists, only Amon Duul, Tangerine Dream, and the Neu!/Cluster/Harmonia axis were not glossed—the bill was heavy on the synth/electronic side of this wondrous genre-by-default, and it's no surprise why:  like the godfathers of German cosmic music, these people are pushing the boundaries of what music can do by erasing the boundaries within what has been done.  There were no slackers here, but these were highlights:  Sam Cooper/Pharaohs' big combo live rendering of Manuel Gottsching's landmark New Age/techno masterpiece E2-E4, ESP's take on Can's "Vitamin C," which somehow fused hip-hop beats, rave anthem climaxes, and psychedelia (this is what ESP does!), and perhaps best of all, Nite Jewel's jaw-dropping, total ownership of Kraftwerk's Computer World.  Honestly, I think I enjoyed this version more than the original, and that's saying something. Only a cynical bastard could not have been inspired by this full-moon evening of genius.
Paco Sala Ro-Me-Ro  (Digitalis)
Speaking of Nite Jewel, this beautiful slab of wax invites comparisons to the earlier, washed out synth-pop of Mlle. Gonzales, as well as the dreamiest stuff from classic 4AD acts (Cocteau Twins' Victorialand or those instrumental doodlings on This Mortal Coil albums).   Despite all the 80s-ness, this is the cutting edge in gorgeous 3.A.M. chamomile tea and clove cigarette anti-pop, so if you like that sort of thing, essential listening.
Shackleton  Music for the Quiet Hour/The Drawbar Organ (Woe to the Septic Heart!)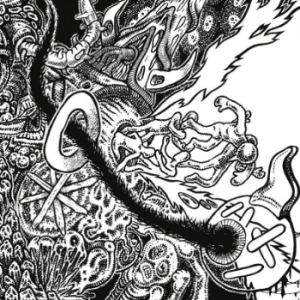 Where the hell did this come from?  I mean, really, what the fuck?!?!? Nutter tech visionary Sam Shackleton's massive triple EP or two CD juggernaut is like few things I've ever heard—if Steve Reich decided to remake The Residents' Mark of the Mole on a laptop, maybe?  A marvel of repeated rhythms and textures set to a hazy spoken narrative beamed back from a post-Singularity future (I think?), this is amazing stuff.  "Music is the weapon of the future," Shackleton tells us, but luckily the future is now.